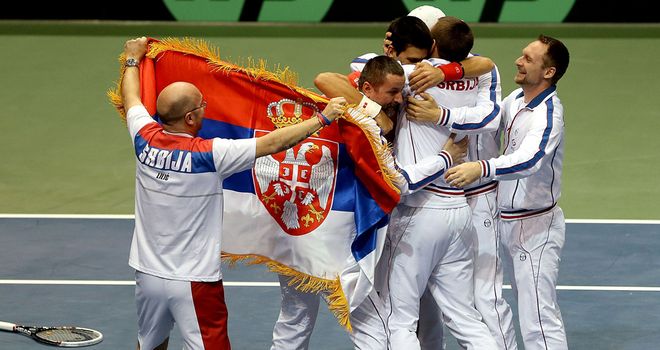 Quarter Finals matches of Davis Cup started !
Dear participants and non-participants! DMT World Tour Staff are glad to announce the beginning of the new season start of Davis Cup! Who will be the best nation in 2014? The Russians who took the trophy in 2013 or Serbians who were one step away from taking this title? Or other nations who have great chances for raising trophy over the heads? We would like to remind that it is the right time to add your country mates and opponents to your skype and play your matches! Quarter Finals matches will playing on 2-7 April. The Deadline: 7 April. No any extra days! Davis Cup 2014 Draw. Good luck to all teams!
Race to London Finals 2014 !
Find all necessary information about Champion's race to London 2014! Top 8 players of the Race will be able to qualify and participate in the last tournament of the year – Tournament of the Champions in London! DMT World Tour Staff on behalf of all the Tour would like thank to Ales16 for his efforts and look forward to its updates! All information is HERE.
New Update Feature on Players Profiles !
The DMTtour.net is continuing to be UPDATED ! Our new update is Career Highest Rank in Players Profiles. This new feature contains data about the highest rank position of the player and the date when the player placed that position. This new function will help players judge about their rivals because current ranking quite often doesn't show the objective situation and the player will learn that he is going to play the World Ex.Number 1! The counting of the highest rank position of the players will start from the 2014 Season. Enjoy!
Each player need to have Skype account !
We inform you that till start Wimbledon each player need to have a valid skype account, so each player can contact each other easily and avoid the problems with MSN that appeared last time. The procedure is simple, just download skype HERE and create free account; after that post your new skype login on this TOPIC. Good Luck!
Strong Deadline Rules for 2014 season !
DMT World Tour Staff would like to announce that from the beginning of SEASON 2014 there won't be any extra days. This rule will be spread for DMT World Tour and Davis Cup matches. In the first season of Davis Cup we made some exceptions, but in 2014 season there won't be any exceptions and Davis Cup tournament will have strict deadline. There won't be any two-side standards. If the player can't play during the time given, he will have to give a Walkover to his opponent. In 2013 moderators lost a lot of time choosing the winners and waiting for many players who promised to play in extra days but didn't. If a player asks for extra day, he will automatically get a warning.
Hall of Fame officially open!
We are glad to anounce that we just opened a new page on the DMT World Tour site called Hall Of Fame. There are some rankings and statistics with the players that won most tournaments so far. This player will help us in future to know who will be the most strongest player of DMT World Tour. Visit Hall of Fame!
Important info for all players!
Each player who registered on our DMT World Tour site, must immediately register with the same username on the forum. In the forum you can communicate with your opponent and arrange match time, also if there are no news from your opponent, posting on the forum will help you to get a walkover to next round.
Every player must provide correct information about their possibility to host matches.
This is very important!
1) If you can host, please select the YES option.
2) If you cannot host, select NO.
3) If you sometimes can host, sometimes cannot host, select YES.
Davis Cup 2013 Draw have been made ! After LIVE stream from Romania, your can watch recorded video ! Full draw is

HERE

!